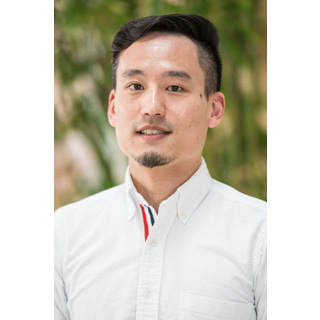 HAYASHI Shusaku Assistant Professor
HAYASHI Shusaku
AffiliationLaboratory of Gastrointestinal Disorder, Division of Presymptomatic Disease, Department of Research and Development
Research fieldsPharmacology, Mucosal Pathophysiology
Campus careerPh.D.(Pharmacy)
Education
2004; BS, Kyoto Pharmaceutical University
2009; PhD, Kyoto Pahrmaceutical University
Job career
2009; Postdoctoral Research Fellow, Department of Pharmacology & Experimental Therapeutics, Kyoto Pharmaceutical University
2010; Assistant Professor, Division of Gastrointestinal Pathophysiology, Institute of Natural Medicine, University of Toyama
Research theme
Outline of the research
Dr. Shusaku Hayashi has focused on the understanding of IBD pathophysiology using in-vitro and in-vivo experimental models. He is exploring mechanisms of intestinal mucosal repair and ideas that could be developed for therapy of IBD patients. Currently, he is interested in the epithelium-immune cell crosstalk in mucosal homeostasis and wound repair after intestinal inflammation.
Thoughts on research
Goal and dream of Dr. Hayashi's research is development of novel concept of therapy for inflammatory bowel diseases based on the understanding the pathophysiology of mucosal barrier.
Paper
Hayashi S. Unraveling the Pathogenesis of Inflammatory Bowel Disease and Search for New Therapeutic Medicines. Yakugaku Zasshi., 140: 123-128, 2020. doi: 10.1248/yakushi.19-00164.
Koizumi K., Oku M., Hayashi S., Inujima A., Shibahara N., Chen L., Igarashi Y., Tobe K., Saito S., Kadowaki M., Aihara K.: Identifying Pre-disease Signals before Metabolic Syndrome in Mice by Dynamical Network Biomarkers. Sci Rep., 9: 8767, 2019. doi: 10.1038/s41598- 019-45119-w.
Hayashi S., Hamada T., Zinsou DGA., Oshiro M., Itoi K., Yamamoto T., Kadowaki M.: PI3K p85α Subunit-deficient Macrophages Protect Mice from Acute Colitis due to the Enhancement of IL-10 Production. Sci Rep., 7: 6187, 2017. doi: 10.1038/s41598-017- 06464-w.
Kato S., Hayashi S., Kitahara Y., Nagasawa K., Aono H., Shibata J., Utsumi D., Amagase K., Kadowaki M.: Saireito (TJ-114), a Japanese Traditional Herbal Medicine, Reduces 5-Fluorouracil-induced Intestinal Mucositis in Mice by Inhibiting Cytokine-mediated Apoptosis in Intestinal Crypt Cells. PLoS One., 10: e0116213, 2015. doi: 10.1371/journal. pone.0116213.
Hayashi S., Hamada T., Zaidi SF., Oshiro M., Lee J., Yamamoto T., Ishii Y., Sasahara M., Kadowaki M.: Nicotine suppresses acute colitis and colonic tumorigenesis associated with chronic colitis in mice. Am J Physiol Gastrointest Liver Physiol. 307: G968-G978, 2014. doi: 10.1152/ajpgi.00346.2013.
keyword
Mucosal Barrier, Inflammatory Bowel Disease, Intestinal Epithelium, Intestinal Mucosal Immunology, Chronic Inflammatory Disease, Mibyo