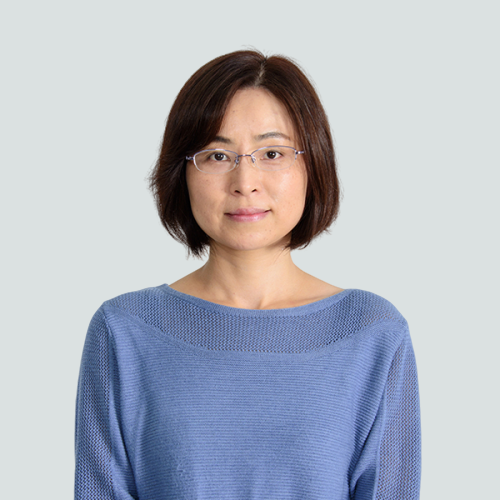 ZHU Shu Assistant Professor
ZHU Shu
AffiliationLaboratory of Pharmacognosy, Section of Pharmacognosy, Division of Medicinal Resources, Department of Research and Development
Research fieldsMolecular Pharmacognosy
Campus careerPh.D. (Pharmaceutical Science)
Education
Beijing Medical University (Present Peiking University),
Bachelor (Pharmaceutical Science)
Toyama medical & Pharmaceutical University (present University of Toyama),
Master (Pharmaceutical Science)
Toyama medical & Pharmaceutical University (present University of Toyama),
Ph.D. (Pharmaceutical Science)

Job career
Assistant, Beijing Medical University (Present Peiking University)
Postdoctoral fellow, Institute of Natural Medicine, Toyama Medical & Pharmaceutical University
Postdoctoral fellow (COE), Institute of Natural Medicine, University of Toyama
Assistant Professor, Institute of Natural Medicine, University of Toyama

Research theme
Outline of the research
I have been engaging in a series of researches that lead to ensuring efficient and sustainable use of herbal medicines, mainly focusing on quality evaluation and resource exploration of herbal medicines guided by genetic analysis. Integrated studies including field investigation on medicinal plants concerning wild and cultivated resources, and molecular systematic, pharmacognostical and chemical analyses on various herbal medicines have been conducted.

The main research interests are as follows.
1. Genetic and chemical diversity of medicinal plants and herbal medicines
2. Quality evaluation of herbal medicines based on multi-components
3. Development of genetic methods for objective identification of herbal medicines
4. Biosynthetic pathway and genes involved in ginsenosides biosynthesis.
Thoughts on research
Herbal drugs have been used for prevention and treatment of diseases from ancient time, which are blessing of nature for human being. Scientific researches by using the latest technology on the botanical origins, active substances, quality, and so on of herbal drugs make valuable contribution to build a solid foundation for ensuring safe, efficient and sustainable uses of the herbal medicine resources.
For research work and also for daily life, I have always wished myself being "Stay Hungry, Stay Foolish."
Paper
Impact of different post-harvest processing methods on the chemical compositions of peony root.
Zhu S., Shirakawa A., Shi Y.H., Yu X.L., Tamura T., Shibahara N., Yoshimatsu K., Komatsu K.
J Nat Med 72: 757-767, 2018.
(Best paper Award in 2019 from the Japanese Society of Pharmacognosy)
MS/MS similarity networking accelerated target profiling of triterpene saponins in Eleutherococcus senticosus leaves.
Ge Y.W., Zhu S., Yoshimatsu K., Komatsu K.
Food Chem 227: 444-452, 2017.
Genetic and chemical characterization of white and red peony root derived from Paeonia lactiflora.
Zhu S., Yu X.L., Wu Y.Q., Shiraishi F., Kawahara N., Komatsu K.
J Nat Med 69: 35-45, 2015.
(Best paper Award in 2016 from the Japanese Society of Pharmacognosy)
Genetic and chemical diversity of Eleutherococcus senticosus and molecular identification of Siberian ginseng by PCR-RFLP analysis based on chloroplast trnK sequence.
Zhu S., Bai Y.J., Oya M., Komatsu K., Maruyama T., Goda Y., Kawasaki T., Fujita M., Shibata T.
Food Chem 129: 1844-1850, 2011.
Development of a DNA microarray for authentication of ginseng drugs based on 18S rRNA gene sequence.
Zhu S., Fushimi H., Komatsu K.
J Agric Food Chem 56: 3953-3959, 2008.
keyword
medicinal plants & herbal medicines, Genetic & chemical diversity, Quality evaluation, Genetic polymorphisms, Chemical profiling