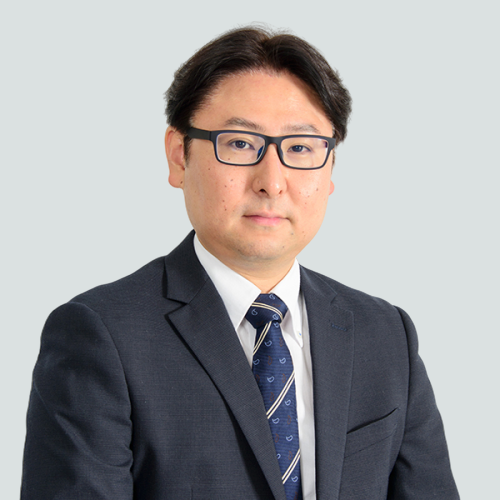 TOUME Kazufumi Associate Professor
TOUME Kazufumi
AffiliationLaboratory of Pharmacognosy, Section of Pharmacognosy, Division of Medicinal Resources, Department of Research and Development
Research fieldsNatural Products Chemistry, Pharmacognosy
Campus careerPh.D. (Pharmaceutical Sciences)
Education
Mar. 2000, B.Sc at Faculty of Pharmaceutical Sciences, Chiba University
Mar. 2002, M.Sc at Graduate School of Pharmaceutical Sciences, Chiba University
Mar. 2005, Ph.D. at Graduate School of Pharmaceutical Sciences, Chiba University

Job career
Apr. 2005, Research Scientist at Nippon Menard Cosmetics CO., LTD.
Jun. 2009, Assist. Prof. at Graduate School of Pharmaceutical Sciences, Chiba University
Sept. 2014, Assoc. Prof. at Institute of Natural Medicine, University of Toyama

Research theme
Outline of the research
1 Development of instrumental analysis methods and establishment of chemical profiling methods for evaluation of multiple compouns in natural medicines
2 Analysis of chemodiversity of natural medicines
3 Exploration and structure determination of pharmacological active natural products in traditional medicines
Thoughts on research
There are many bioactove natural compounds in natural medicines such as Japanese and Chinese traditional medicines, and these multiple compouns interact with each other and shows pharmacological action. Our research goal is establishment of instrumental analysis of natural medicines to understand and analyse these multiuple components in a mixture.
And there are various compounds in natural drugs such as Japanese and Chinese medicines. It seems that there are many natural compounds whose existence itself is not known or whose existence is known but whose functionality including biological effectiveness (such as biological activity) has not been clarified. I would like to find these useful natural compounds lurking in the natural world, clarify their usefulness, and use them effectively as humans such as pharmaceuticals.
Paper
Batsukh Z., Toume K., Javzan B., Kazuma K., Cai S.Q., Hayashi S., Kawahara N., Maruyama T., Komatsu K.: Metabolomic profiling of Saposhnikoviae Radix from Mongolia by LC-IT-TOF-MS/MS and multivariate statistical analysis. J. Nat. Med, in press. doi: 10.1007/s11418-019-01361-0
Toume, K.; Hou, Z. Y.; Yu, H. H.; Kato, M.; Maesaka, M.; Bai, Y. J.; Hanazawa, S.; Ge, Y. W.; Andoh, T.; Komatsu, K. Search of anti-allodynic compounds from Plantaginis Semen, a crude drug ingredient of Kampo formula "Goshajinkigan". J. Nat. Med. 2019, 73, 761-768. doi: 10.1007/s11418-019-01327-2
Hara, Y.; Arai, M. A.; Toume, K.; Masu, H.; Sato, T.; Komatsu, K.; Yaguchi, T.; Ishibashi, M. "Coculture of a pathogenic actinomycete and animal cells to produce nocarjamide, a cyclic nonapeptide with Wnt signal-activating effect" Org. Lett. 2018, 20, 5831-5834. doi: 10.1021/acs.orglett.8b02522.
Ohishi, K.; Toume, K.; Arai, M. A.; Koyano, T.; Kowithayakorn, T.; Mizoguchi, T.; Itoh, M.; Ishibashi, M. "9-Hydorxycanthin-6-one, a β-carboline alkaloid from Eurycoma longifolia, is the first Wnt signal inhibitor through activation of GSK3β without depending on CK1α" J. Nat. Prod. 2015, 78, 1139-1146. DOI:10.1021/acs.jnatprod.5b00153
Toume, K.; Habu, T.; Arai, M. A.; Koyano, T.; Kowithayakorn, T.; Ishibashi, M. "Prenylated Flavonoids and Resveratrol Derivatives Isolated from Artocarpus communis with the Ability to Overcome TRAIL Resistance." J. Nat. Prod. 2015, 78, 103-110. DOI:10.1021/np500734t
keyword
Natural Products Chemistry, Pharmacognosy, Spectrometry, Natural Products Separation, Purification, Metabolome analysis