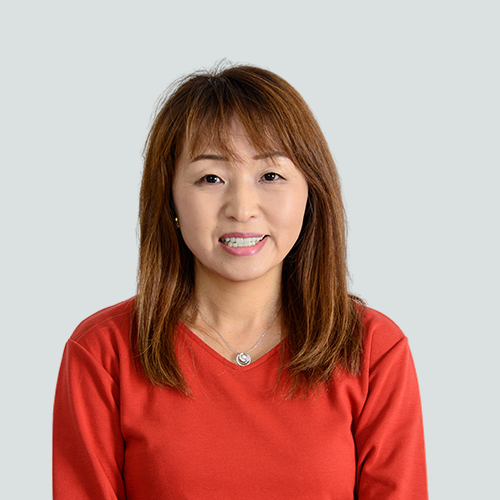 TOHDA Chihiro Professor
TOHDA Chihiro
Affiliation Laboratory of Neuromedical Science, Section of Neuromedical Science, Division of Bioscience, Department of Research and Development
Research fieldsNeuropharmacology
Campus careerPh.D.(Pharmaceutical Science)
Education
Mar. 1989 Hokkaido University, Japan Bachelor of pharmaceutical sciences
Mar. 1991 Hokkaido University, Japan Master's degree in pharmaceutical sciences
Mar. 1994 Hokkaido University, Japan Ph.D. in pharmaceutical sciences

Job career
Oct. 1993 - Mar. 1995 Research Fellowship for Young Scientists, the Japan Society for the Promotion of Science
Apr. 1995 - Oct. 1996 Assistant Professor, Department of Applied Pharmacology, Institute of Natural Medicine, Toyama Medical and Pharmaceutical University, Japan
Oct. 1996 - Sep. 2005 Assistant Professor, Research Center for Ethnomedicines, Institute of Natural Medicine, Toyama Medical and Pharmaceutical University, Japan
Oct. 2005 - May 2010 Assistant Professor, Division of Biofunctional Evaluation, Research Center for Ethnomedicine, Institute of Natural Medicine, University of Toyama, Japan
June 2010 - March 2017 Associate Professor & Head, Division of Neuromedical Science, Institute of Natural Medicine, University of Toyama, Japan
April 2017 - Present Full Professor & Head, Division of Neuromedical Science, Institute of Natural Medicine, University of Toyama, Japan
April 2017 - Present Full Professor & Head, Laboratory of Neuromedical Science, Institute of Natural Medicine, University of Toyama, Japan

Research theme
Outline of the research
My study aims to overcome neurodegenerative diseases and aging-related diseases, by discovering protective and/or therapeutic medicines and unraveling suppressing mechanism of those diseases. I investigate them by multi-viewpoints such as pharmacological, neuroscientific and traditional medicinal approaches, and cover from the basic research to the clinical study. Current target diseases are Alzheimer's disease, spinal cord injury and sarcopenia. I found that several herbal medicines including Kampo medicines remarkably improved those pathological symptoms in model mice. I also approach how those drugs control pathophysiology from the point of view of active compounds and molecular mechanisms. I am also very interested in the interacting control system between the central nervous system and peripheral organs. For example, I already clarified several positive controller and negative controller as new myokines against neuronal function.

My challenges
1. Integrative elucidation of the molecular mechanism of restoring the neuronal network in the central nervous system.
2. Identifying fundamental therapeutic drugs for Alzheimer's disease, spinal cord injury or sarcopenia from traditional medicines.
3. Clarifying the molecular mechanism of interactive controlling system between the central nervous system and skeletal muscle.
5. Clinical study for translating basic researches to developing botanical drug products and/or repositioning Kampo medicines. Contribution to regulatory science for botanical drugs.

Thoughts on research
I often imagine the human would live better and happier if I can unravel "the issue", if "the issue" could be possible. The imagined issue is just a delusion if I am just thinking. However, it would be sublimated to "Scientific Research" when the vague imagination is organized into several specific questions, is polished how I can get evidences with high quality. My scientific spirit is to challenge something interesting, novel and helpful. Even the hypothesis might be fantastic, OK, I anyway investigate it with experiments. It's my style.
When the good idea flashes into my mind, unexpected results come out, and slight progress is recognized in the way to far goal, I'm exceedingly happy, it's an exciting moment.
What I want to accomplish throughout my life are studying therapeutic strategies to overcome intractable diseases and developing products by myself. For our future no patients suffering from illness.
Paper
Kodani A, Kikuchi T, Tohda C. Acteoside Improves Muscle Atrophy and Motor Function by Inducing New Myokine Secretion in Chronic Spinal Cord Injury. J Neurotrauma. 2019;36(12):1935-1948.
Tohda C, Yang X, Matsui M, Inada Y, Kadomoto E, Nakada S, Watari H, Shibahara N. Diosgenin-Rich Yam Extract Enhances Cognitive Function: A Placebo-Controlled, Randomized, Double-Blind, Crossover Study of Healthy Adults. Nutrients. 2017;9(10). pii: E1160.
Yang Z, Kuboyama T, Tohda C. A Systematic Strategy for Discovering a Therapeutic Drug for Alzheimer's Disease and Its Target Molecule. Front Pharmacol. 2017;8:340.
Shigyo M, Kuboyama T, Sawai Y, Tada-Umezaki M, Tohda C. Extracellular vimentin interacts with insulin-like growth factor 1 receptor to promote axonal growth. Sci Rep. 2015;5:12055.
Tohda C, Urano T, Umezaki M, Nemere I, Kuboyama T. Diosgenin is an exogenous activator of 1,25D₃-MARRS/Pdia3/ERp57 and improves Alzheimer's disease pathologies in 5XFAD mice. Sci Rep. 2012;2:535.
keyword
Neurodegenerative disease, Dementia, Spinal cord injury, Repairment of neural circuit, Botanical drug